Introducing A New Menu of Timeless American Steakhouse Classics Impeccably Executed by New Chef de Cuisine Ivan Chan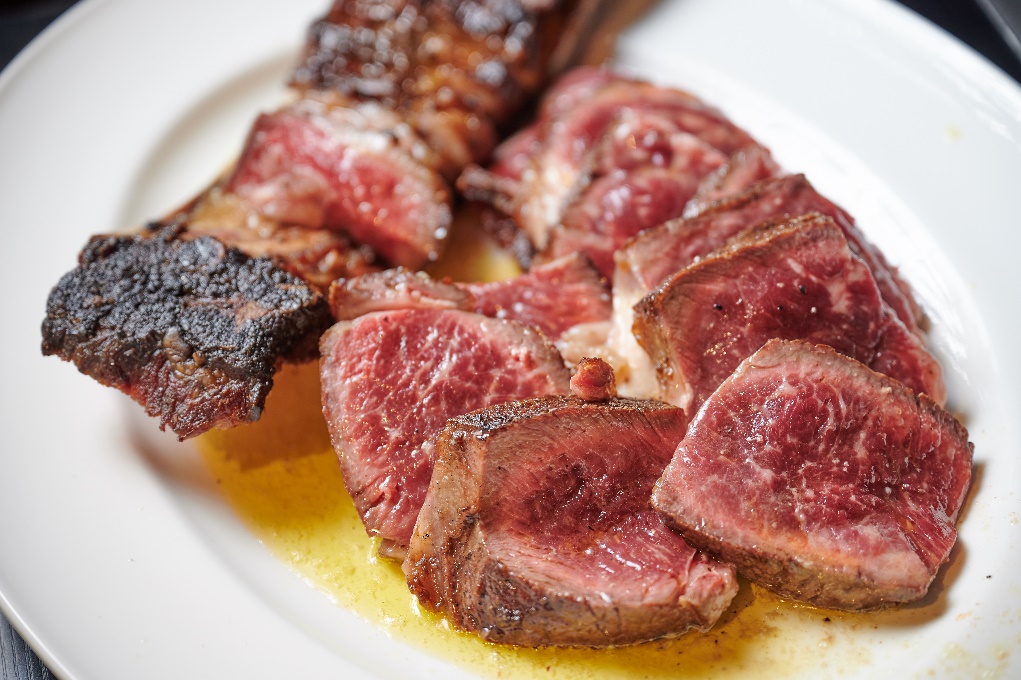 Left: Chef Ivan Chan; Right: Dry-aged USDA Prime Bone-in Ribeye, Peter Luger style
(Hong Kong – 15 October 2020)Housed at the Hong Kong Ocean Park Marriott Hotel, Lai Sun Dining's American steakhouse Prohibition Grill House & Cocktail Bar welcomes seasoned chef Ivan Chan joining the team as the Chef de Cuisine this autumn. With over 26 years of experience and vast knowledge on meats, grill and beyond, Chef Ivan curated a new a-la-carte menu featuring timeless American steakhouse classics that excites all steak lovers in town.
Chef Ivan has a unique insight on steak selection, being the very first chef who introduced Korean beef and other lesser-known Japanese beef like Tottori Ken in the menu. At Prohibition Grill House & Cocktail Bar, guests can expect a menu of great beef including USDA Prime Black Angus, US Wagyu "Gold Medal" wagyu, Australian wagyu and Korean 1++ beef, together with sustainable seafood chosen according to the recommendation from WWF-HK's seafood guide, refreshing American salads, comforting sandwiches, sides and desserts.
Steak highlights include USDA Prime Black Angus New York Strip (12oz, HK$598), a tender and juicy cut of the corn-fed American beef; and Korean 1++ Striploin (10oz, HK$1,088), the top-grade Korean beef with beautiful marbling, both grilled to perfection with just right seasoning. Chef Ivan brings the excitement further up with his iconic off-menu special Dry-aged USDA Prime Bone-in Ribeye, Peter Luger style (52oz, HK$1,980, for 4-6 persons, pre-order required at least 2 days in advance), a mouth-watering sharing dish inspired by the legendary steakhouse in New York. The properly dry-aged USDA Prime steak is first grilled and sliced thick, then moved to a burning hot plate for the next crucial step, where Chef pours hot melted clarified butter onto the meat. The sizzling sound of butter dancing on the plate announces the perfect marriage of buttery jus and steak, accompanied by heavenly aroma filled the whole room – a dish that all true steak enthusiasts would fall in love with.
Chef Ivan's refined touch and precise execution are reflected in other new dishes as well. Ahi Tuna Tartare (HK$198) is lightly seasoned with yuzu dressing to bring out the natural umami of the fish; "New Orleans" Jumbo Crab Cake (HK$238) is a modern take of the American classics; Prohibition Chopped Salad (HK$178), a refreshing mix of organic green, wax apple, tomato and homemade vinaigrette, is the salad for your healthy kick; Philly Cheesesteak (HK$238), an American popular sandwich created with chopped beefsteak and Cheez Whiz, is presented chicly with beer potato chips; Grilled Marine Sampler (HK$880 for two persons), the seafood platter to go beyond beef, filled with Boston lobster, jumbo king prawn, Hokkaido scallop and chef Ivan's signature "New Orleans" jumbo crab cake. Not to mention the equally delightful side dishes including Lobster Mac & Cheese (HK$118), Creamy Corn ($88) and Creamy Spinach ($88), to name a few.
Enjoy all the food at the opulent yet cozy dining area with red velvet coaches, brick walls and leather details, mimicking the olden days' American drinking den in a modern way. The window-side tables next to the hotel's garden pool set the perfect ambience for any occasions from date night to family gathering. Pair up the dishes with Prohibition's extensive wine list, curated Whisky list or the bar's modern twist on classic concoctions.
With Chef Ivan's new creations, buzzy vibe and warm hospitality, good time ensured at Prohibition Grill House & Cocktail Bar.
---
Prohibition Grill house & Cocktail bar
Tel: (852) 3555 1900
WhatsApp: (852) 9840 7117
Address: G/F (Portion C) at Club Wing, Hong Kong Ocean Park Marriott Hotel, Ocean Park, 180 Wong Chuk Hang Road, Wong Chuk Hang
Dress Code: Smart Casual
---