The Perfect Summer at the Only Michelin-starred Steakhouse in Hong Kong – Beefbar
One Michelin-starred Beefbar is enthusiastic to present an array of summer offerings to our diners. Executive Chef Andrea Spagoni, continues to freshen the menu this summer with providing "4-course Sumptuous Weekend Lunch", priced HKD 498 per person for 4-course, despite the all-time favourites Milk-fed Veal Filet Tartare with Tarragon & Praline; Black Angus Filet Carpaccio, Pistachios & Parmesan Cheese; American Black Angus Mini Burger with Bacon & Lemon Sauce etc., the key highlight of weekend lunch menu is unlimited daily roast with selected side dishes, Chef Andrea picks the best meat and pair with our delectable sides such as homemade potato cream and creamy spinach. The weekend lunch menu will be serving on every Saturday and public holidays as well, make your weekend count!
More than just a great steakhouse, Beefbar Hong Kong also offers Rooftop Happy Hour daily from 6pm – 8pm with 2 hours free flow selected wines & drinks and complimentary Smoked Cecina,
Soft Tacos and French Fries in this summer for only HKD 298 per person. Have a happy summer drinking in the most ideal destination for post-work relaxation and corporate celebration.
Even more excitement for the summer offerings, beef of the night 30% off with world-class selected beef serving will continue to reveal in summer. Also, patron can enjoy up to 25% discount on à la carte menu and wine list*
*Offer is subject to terms & conditions.
Highlighted Dishes – Sumptuous Weekend Lunch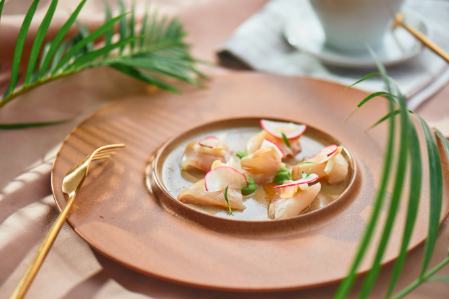 Striped Jack with Yuzu Pepper Dressing
The imported Japanese fresh fish is served with a touch of yuzu pepper, almond flakes and hint of wasabi, pungent and aromatic.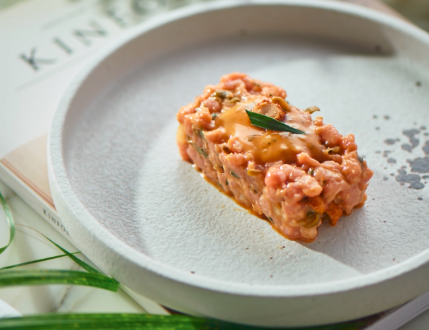 Milk-fed Veal Tartare with Tarragon & Praline
Unconventional and sophisticated tartare of veal, tarragon and praline – an exclusive recipe with divine layers of flavor.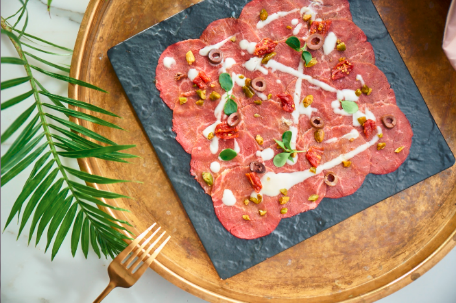 Black Angus Filet Carpaccio, Pistachios & Parmesan Cheese
USDA Prime Black Angus filet with Parmesan dressing, dried tomato, olives and toasted pistachio aside for richness of flavor.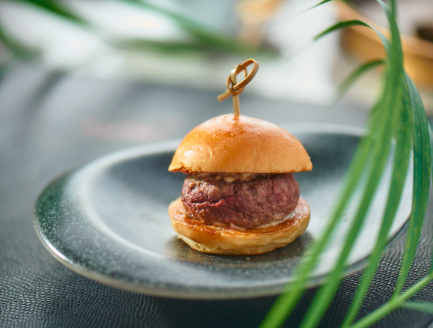 American Black Angus Mini Burger with Bacon & Lemon Sauce
Homemade soft bun with tender US Black Angus beef, a crispy smoky taste of bacon and refreshing lemon sauce to tickle your taste buds.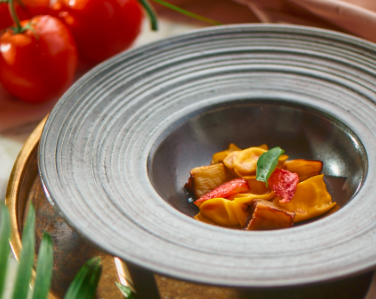 Homemade Ricotta Ravioli, Eggplant, Candied Tomato
Handmade ravioli one by one, filled with the freshest ricotta cheese, simple thought to combine the texture and the flavour of eggplant and candied tomato.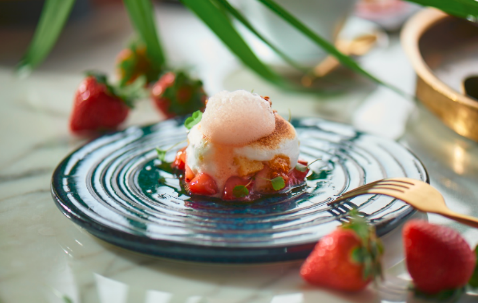 Strawberry Meringue
The most elegant and impressive dessert with assorted Korean & Japanese strawberries, lemon meringue, yuzu jelly with aperol foam.
About Beefbar
In 2015, Beefbar settled in the bustling metropolis of Hong Kong. Here Beefbar's cuisine remains the focus, experienced through our iconic dishes. This inspiration is evident in the creation of local dishes, a continuance of our unique dining experience. One year after its opening, Beefbar received its first star in the "Michelin Guide Hong Kong & Macau 2017".
---
Beefbar
Tel: (852) 2110 8853
Address: 2/F, Club Lusitano, 16 Ice House Street, Central
Opening Hour:
Monday To Saturday (Closed On Sunday)
Lunch: 12:00 To 14:30
Dinner: 18:30 To 22:30
Dress Code: Smart Casual
---
For media enquiries, please contact:
Ms. Belinda Lin | Director of Marketing
+852 9467 7840 | belindalin@laisun.com
Ms. Ammi Chin | Senior PR & Marketing Executive
+852 6287 6537 | ammichin@laisun.com