Organic & Healthy Recipe
Hong Kong citizens are more focus on healthy lifestyles nowadays, the concept of organic food, sustainability and more veggies less meat has been well established. To encourage healthy living, China Tang Landmark launches Organic Green Month with selections of healthy dishes using locally grown hydroponic vegetables, claims to be organic, no contamination, never on pesticides and rich in vitamins features, definitely a new taste for health.
Hydroponic vegetables mainly planting indoor which are not affected by environment and weather, also they are not using any pesticides. When the plantation period complete, vegetables are good for immediate consumption without washing. With the ideal growing environment, the produces are full of vitamins and minerals.
Recommended Dishes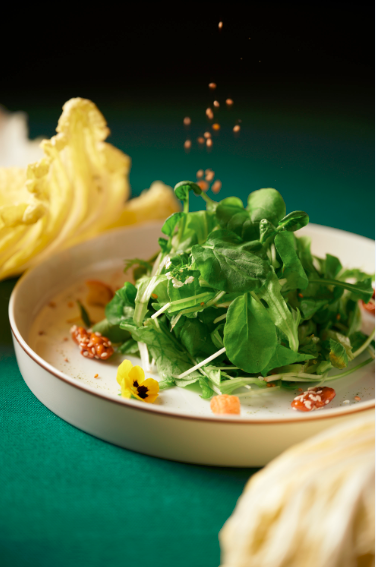 Marinated Vegetable Seedling, Fried Dough Stick, Walnut, Yuzu Vinegar
A cold appetizer with freshly locally grown hydroponic seedlings with delicate texture, paired with deep-fried Chinese donut cube, caramelized walnut which can stabilize blood pressure, sesame and refreshing yuzu sauce.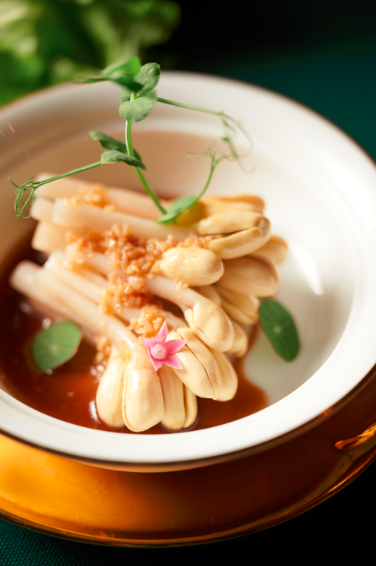 Marinated Peanut Sprouts, Garlic, Vinegar
Peanut sprouts is a high protein vegetables and good for immune system, anti-aging and a good tool for losing weight. In Chinese, they crowned the peanut sprouts as "Longevity sprout". Peanut sprouts dressed with soy sauce, black vinegar and garlic, mouthful of invigorating flavors.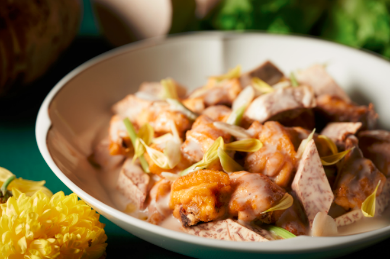 Braised Chicken, Taro, Porcini Mushroom, Coconut Sauce
The chicken is using local "beard chicken", named because of their chin with bushy feathers, their skin are thin and with less fat, also have rich chicken flavors. Our chef will pan-fried the beard chicken to golden brown, then braised with organic taro, high protein and vitamin porcini mushroom, fresh coconut juice and broth. Strong flavor of coconut creates symphony with beard chicken.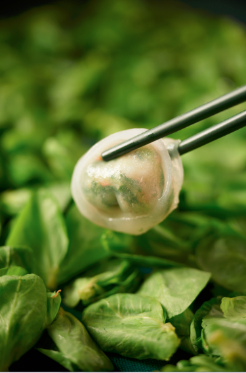 Steamed Dumpling, Shrimp, Vegetable Seedling, Maitake Mushroom
China Tang is renowned of it's marvelous creation of dim sum. The crystal clear dumpling skin wrapped with fresh hydroponic vegetables, shrimp, carrots and maitake mushroom in which an important tool to reduce blood pressure and cholesterol to have multi-layered taste.
About China Tang Landmark
The first China Tang debuted at the legendary The Dorchester, London in 2007, and opened its doors at The Landmark, Hong Kong in November 2013. Conceived and designed by Sir David Tang, all decorations were rooted in the Chinese tradition with a stylish touch: hand-painted and hand-embroidered wallpaper, antique books, Chinese paintings and lighting fixtures, beautifully upholstered chairs, decorative pieces and superb trompe l'oeil on mirrors and glass… All details are carefully thought through to create a timeless and refined décor.
About Chef Cheung Ka Yue
Chef Cheung Ka Yue has worked for more than ten years in culinary industry. He learned for western pastries at first but then to pursue his culinary journey with his passion in cooking. Worked for renowned restaurants such as Hong Kong Jockey Club and Tian Di Yi Jia in Beijing, and being an apprentice of acclaimed Chef Lo Tak Yen, those experience has crowned chef and elevate his cooking skills to the next level. Despite inheriting traditions, Chef Cheung also keen on creating innovative dishes. Being honored in HOFEX with gold award, champion of California Strawberry Cooking Contest, he continues to bring up his creativity and passion for food to China Tang.
---
China Tang Landmark
Tel: (852) 2522 2148
WhatsApp: (852) 5599 8129
Address: Shop 411-413, 4/F, Landmark Atrium, 15 Queen's Road Central, Central, Hong Kong
Opening Hours: Monday – Sunday 12:00 PM - 10:30 PM
---