China Tang Landmark Embrace the Early Summer with Local and Organic Produce
(Hong Kong, April 19, 2021) After enjoying dishes with flamboyant ingredients from exotic places in the past winter; China Tang Landmark 's Executive Chef Cheung Ka Yue, Menex brings the attention back to local and organic produce to embrace the early summer, by cooking them in a fresh and enlightening way like never before. 
People are more focus on healthy lifestyles and the concept of organic food nowadays, Chef Menex move towards featuring more locally grown vegetables that carefully selected from organic farms in the New Territories to support small local farms also to showcase healthy eating with a variety of delicacies.
Braised Chicken, Sweet Potato

Using locally farmed Beard Chicken with no hormone, pan-fried the beard chicken to golden brown, braised with organic sweet potato in broth. The chicken is named as "Beard Chicken" because of their chin with bushy feathers, their skin are thin and with less fat, also have rich chicken flavors.

Simmered Hokkaido Tokachi Pork, Wolfberry, Garlic, Chicken Broth

The locally grown wolfberry and Hokkaido Tokachi Pork are both rich in flavour. The two ingredients are directly boiled with chicken broth instead of water. The chicken broth absorb the flavour of Tokachi Pork and wolfberry. Dried tiger prawns are added on top to enhance the aroma of the dish.

Wok-fried Indian Lettuce, Diced Scallop, Black Bean

Using local organic lettuce and homemade marinated black bean, stir-fried them with Japanese fresh scallops and various refreshing ingredients such as pine nuts and crispy fried dough sticks. Ingredients are cut into cubes of similar size and stir-fried quickly to keep their texture. The marinated black bean adds umami to the fresh ingredients.

Homemade Yogurt, Imperial Superior Bird's Nest, Beetroot

Beetroot is rich in nutrients and low in calories. It is known as a super food. Using the organic beetroot, blend until it becomes a pink paste form and eat together with the bird's nest and yogurt. The unique aroma of beetroot matches with the creamy yogurt with a refreshing taste.
Local and Organic Produce Menu
Available from April 19, 2021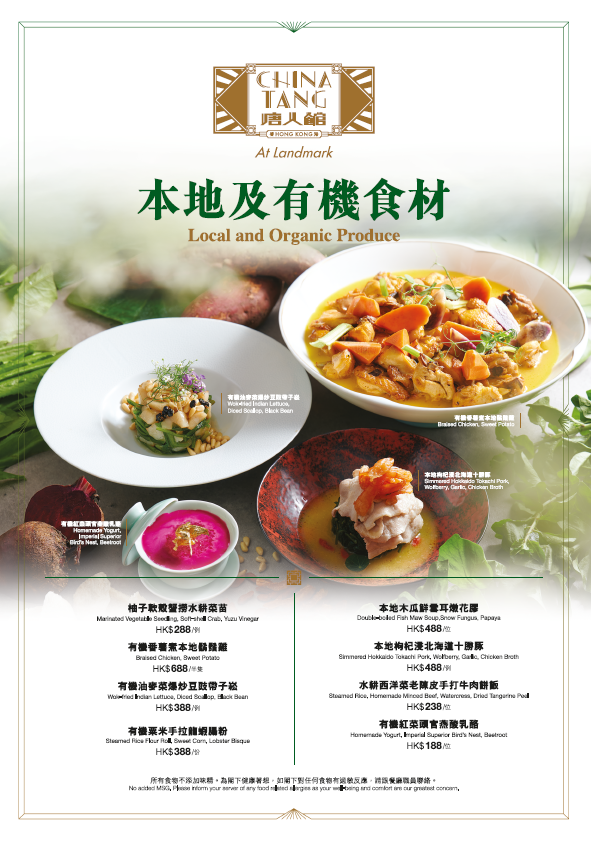 ---
China Tang Landmark
Tel: (852) 2522 2148
WhatsApp: (852) 5599 8129
Address: Shop 411-413, 4/F, Landmark Atrium, 15 Queen's Road Central, Central, Hong Kong
Opening Hours: Monday – Sunday 12:00 PM - 10:30 PM
---