China Tang Presents "Chrysanthemum Quintet" Collaboration with Shanghai Tang A Voyage of Soothing Tastes and Calming Scents
(Hong Kong, 15 September 2020) This autumn, China Tang Landmark debuts a specially curated menu "Chrysanthemum Quintet" in collaboration with renowned Chinese lifestyle brand Shanghai Tang. The menu presents an exquisite oriental lifestyle through soothing culinary delights and calming scents that offer curative powers in these unusual times. The exclusive menu, which showcases the delightful flavours of the chrysanthemum in a variety of ways, will be available for a limited time from 28 September to 8 November.
As the crisp autumn breeze begins, chrysanthemums blossom all over the mountainside, effusing soothing whiffs of herbal aroma. Known for its light fragrance and medicinal properties, chrysanthemum is the perfect ingredient for the exquisite autumn menu. Inspired by Shanghai Tang's brand new Chrysanthemum Home Fragrance Collection, the inventive menu unities taste and scent, reinvigorating your sense of smell and taste.
Executive Chef Cheung Ka Yu, Menex of China Tang Landmark has created a sumptuous 5-course seasonal menu showcasing chrysanthemum as the star ingredient. He curated each dish with various preparation and cooking methods to avoid destroying the natural fragrance of chrysanthemum from heating and to preserve its unique aroma and beauty. With wise combination of a range of premium ingredients, the dishes handcrafted by Chef Menex showcases different forms of enchanting chrysanthemum. Hailed as 'tenacious hermit' in Chinese culture, China Tang Landmark captures the essence of chrysanthemum by curating a bespoke menu that transports you to a truly unforgettable culinary journey nourishing your body and soul.
China Tang customers order the "Chrysanthemum Quintet" menu at China Tang Landmark during promotion period can receive a voucher to redeem the Ginger Flower, Bamboo or Chrysanthemum Room Spray (valued at HK$380) at Shanghai Tang; while Shanghai Tang customers net spend of HK$1,200 on Shanghai Tang's Home Fragrance Collection at selected boutiques can receive a 20% off voucher for ordering the "Chrysanthemum Quintet" menu at China Tang Landmark.
"Chrysanthemum Quintet"
Venue:

China Tang Landmark

Shops 411-413, 4/F Landmark Atrium, 15 Queen's Road Central, Central

Date:

28 Sep 2020 (Mon) – 8 Nov 2020 (Sun)

Price:

HK$1,288 plus 10% service charge per person

Reservation:

+852 2522 2148
APPETIZER | Chilled Noodle, Seafood, Sesame Sauce, Chrysanthemum

This creative appetizer fully embraces the scent profile of the chrysanthemum. Floral water extracted by steeping dried chrysanthemums is used to cook the four-colored noodles, which is then chilled and served with seafood and sesame sauce on top, presented on a bed of fresh chrysanthemum petals and drizzled with chrysanthemum floral water. Upon lifting the plate cover, an elegant floral scent and mist pervades, revealing the tasty chilled noodles which are refreshing in both taste and texture. This dish serves as the perfect dreamy prelude to the Chrysanthemum Quintet.

SOUP | Double-boiled Consommé, Bean Curd, Chinese Baby Cabbage

Floral water is extracted from steeping dried chrysanthemums. Mature chicken, brown meat and Chinese baby cabbage are then added to the floral water and stewed to create a consommé enriched with the light fragrance of chrysanthemums, which is then double-boiled into a clear double-boiled consommé using a unique Chinese culinary technique. An expertly cut chrysanthemum-shaped silken bean curd blooms in the soup, making for a highly picturesque masterpiece.

HOT DISH | Wok-fried Saga Wagyu Beef, Deep-fried Whole Chrysanthemum

The Saga Wagyu beef is diced and wok-fried in chrysanthemum oil made from fresh chrysanthemums. The scent of chrysanthemum finely balances the Wagyu beef that is richly marbled with fat. The beef is presented on top of a beautiful deep-fried whole chrysanthemum and served with an appetizing sauce made from homegrown lemon leaves and fresh chrysanthemums, creating a well-layered flavour profile that will tickle your tastebuds.

POULTRY | Steamed Chicken, Seafood Paste, Quinoa, Chrysanthemum

Seafood paste is mixed with Clutterfish, scrimp, fresh chrysanthemum, Chinese celery and water chestnuts, stuffed into boneless local Huxu Chicken, steamed and cut into pieces. The chicken is then drizzled with Korean chrysanthemum wine and a chrysanthemum sauce made from Shanghainese sweet fermented rice and Royal Court rich chicken broth originated from Beijing cuisine. The wine brings out the essence of the flavour in this highly intricate dish.

DESSERT | Chilled Chrysanthemum Tea Pudding, Imperial Bird's Nest

Japanese whole yellow chrysanthemums are combined with fresh floral water made by steeping fresh yellow chrysanthemums to create a fragrant chrysanthemum tea pudding. Imperial bird's nest infused with chrysanthemum tea can be poured over the pudding, turning this exquisite dish into a serene chrysanthemum garden landscape. This photogenic dessert is a beautiful art piece and a feast for the eyes, bringing the gastronomic quintet to a perfect finale.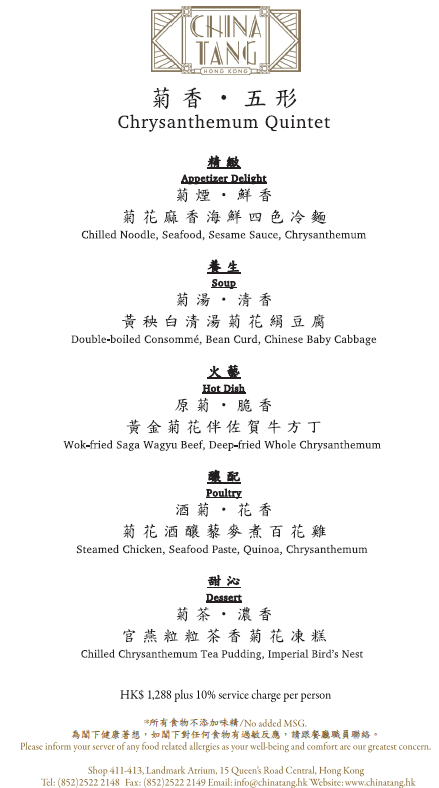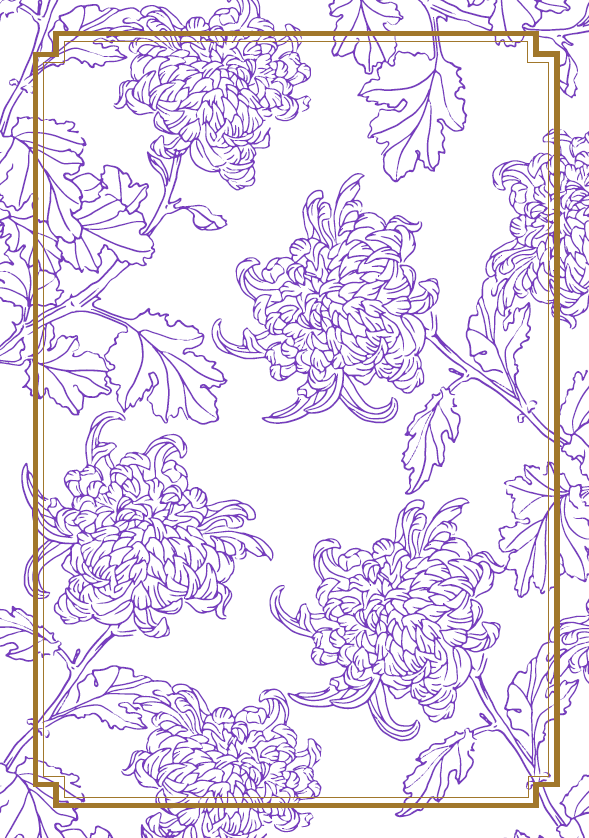 Shanghai Tang Launches New Chrysanthemum Home Fragrance Collection
Presenting an Exquisite Oriental Lifestyle
A soothing fragrance is crucial in times of social distancing and working from home. Shanghai Tang introduces a brand new scent to its Home Fragrance Collection — Chrysanthemum, inspired by Chinese culture and iconic plants found in the East. The Chrysanthemum fragrance is a floral, aromatic bouquet stippled with spicy accords sure to delight those with a taste for oriental scents. The Home Fragrance Collection includes a range of fragrance products for interiors and exudes healing scents for different spaces including scented candles in three different sizes, a diffuser and easy-to-use room spray.
Please see appendix for more details of the Shanghai Tang Chrysanthemum Home Fragrance Collection.
---
China Tang Landmark
Tel: (852) 2522 2148
WhatsApp: (852) 5599 8129
Address: Shop 411-413, 4/F, Landmark Atrium, 15 Queen's Road Central, Central, Hong Kong
Opening Hours: Monday – Sunday 12:00 PM - 10:30 PM
---